As a child, one of my favorite things to eat was strawberry banana yogurt. It was my favorite flavor combination for the longest time. This weekend, my husband really wanted pancakes and I had no problem making them, but I just had to try something different than my usual pancake. We had tons of fruit in the house and he suggested strawberries. I love strawberry pancakes, but I decided to try and kick them up a notch by adding banana as well. These were a hit (except for the first few pancakes which I accidentally messed up by trying to flip too early (happens to me every time I make pancakes and yet I still haven't learned my lesson). I hope you enjoy these as much as our family did!
Also, this my first ever
Tuesday Tag-Along
post and I'd like to welcome anyone who finds me today, I hope you enjoy your stay!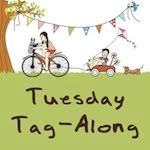 This post is also linked to
Tempt My Tummy Tuesdays
!
Whole Wheat Strawberry Banana Pancakes
Ingredients:

1 Cup Whole Wheat Flour
1/8 Cup Honey

1 teaspoon baking powder
1/2 teaspoon baking soda
1/4 teaspoon salt
1 ripe banana, mashed

1 egg, lightly beaten

1 cup milk (I used 1%, but you could use any type, buttermilk would be good here too)

2 tablespoons canola oil
1 cup strawberries, cut into small pieces
Directions:
In a large mixing bowl, combine all of the dry ingredients. Set dry ingredients aside. In a medium bowl, combine mashed banana, egg, milk, oil, and honey, whisk until well blended. Add wet ingredients to dry and mix thoroughly (batter may be a little bit lumpy). Do not add strawberries.
Heat a griddle pan or skillet on medium-medium/high heat, spray with PAM or grease pan with butter. Drop batter onto pan by 1/4 cup increments. sprinkle with strawberries. Once bubbles begin to form (about 4-5 minutes), flip pancake and cook until golden brown on both sides. Serve with fresh maple syrup and/or butter. I had mine with just syrup and they were delicious. Hubby had his with both butter and syrup, and both of my kids ate them plain with nothing on them and everyone enjoyed them!